Jurassic World: Dominion Dominates Fandom Wikis - The Loop
Play Sound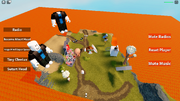 Survival the Albert the killer (formerly known as "Survive Albert".,) is a game that was developed by Jandel and NeverTrustBob and mrflimflam (Aka Albert). Jandel has spent hours on making the game. There have been numerous updates after. Felipe is the primary antagonist of the game, and an Albert head serves as the titular secondary antagonist. It is apart of the "Survival The [name] The Killer" genre of games.
Gameplay
You spawn on a grass base plate with mountains and trees everywhere. There is a chill monster on the hill made out of snow and ice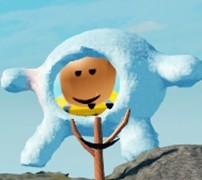 Multiple Jeeps are everywhere and multiple Felipe heads will try to chase you, as well as a huge Albert head trying to eat you. You can go into the toilet or the Ferris wheel, be a Temprist head, be an Albert head, be a tiny Cleetus, become a radio or a washing machine in the game as well.
Description
🌋VOLCANO SPAWNS EVERY 5 MINUTES🌋
zoinks! flamingo is hungry!! eek! oh no man!!!
made by jandel and nevertrustbob and Albert

Game passes
Big Radio (25 Robux): Turns you into a big radio and lets you play any music ID.
Be Albert (100 Robux): Allows you to become an Albert head and eat players.
Mega Speed (25 Robux): Allows you to become Temprist head and gain super speed.
Tiny Cleetus (18 Robux): Turns you into Cleetus and shrinks you to a tiny size.
Su tart (22 Robux): Allows you to become a Su Tart head and jump very high.
Spawn 25 Felipe (25 Robux): Spawns 25 Felipe's into the map. (You will have to buy it again if you want to spawn another 25 Felipes.)
Trivia
If you are a Temprist head, Radio or Albert head, you cannot climb ladders.
Everytime you transform into a head, your health fully regenerates.
If you die but quickly transform into a head, you'll still be able to walk and kill players for a few seconds before respawning.
Badges
Welcome Badge (100.0% Freebie) join survive albert
Touch Toilet (5.1% Extreme) touch the toilet
FAN IDEA BADGES
albertoo (???% Fan iDea) Get killed by albert
Tato Action (???% Fan Idea) get killed by the ugly scp tato
Zoinks! (???% Fan Idea) Get pushed off the work using a car
Robux Land (???% Fan Idea) wow you found robux land
Albert 100 (???% Fan Idea) Get killed by albert 100 times
Volcano my way down town (???% Fan Idea) Volcano Spawn
owww (???% Fan Idea) fall in lava
NOT CHILL (???% Fan Idea) get killed by chill
noob revolution (???% Fan Idea) find the noob cube
Loveyouroni (???% Fan Idea) Find loveyouroni
Mousemanjeff (???% Fan Idea) Find mousemanjeff
Hakka701 (???% Fan Idea) find hakka701
NOOB NUKE (???% Fan Idea) Combine the three noobs to noob nuke the server...
Aftermath Builder (???% Fan Idea) rebuild the noob cube after the noob nuke
Final Strike (???% Fan Idea) Noob Nuke the server again..
The Fourth noob (???% Fan Idea)
Survival the Survival (???% Fan Idea) Albert survives you
Jump over Dhrbfyty (???% Fan Idea)
Dhrbfyty's revenge (???% Fan Idea) oh no she killed you
Dhrbfyty brings a gun (???% Fan Idea) stop jumping on her bruh
Dhrbfyty holds felipe rifle (???% Fan Idea) One more jump and she fight u
Dhrbfytdie (???% Fan Idea) The battle begins
dhrbbattles (???% Fan Idea) I AM RB BATTLES
dhrbfYOUTUBEy (???% Fan Idea) find the yt channel
AHHH ITS COLD (???% Fan Idea) go in the toilet
MAKING MY WAY DOWNTOWN WITH CAR (???% Fan Idea) go downtown with your car
Unity Collab Death (???% Fan Idea) Summon the noob nuke with the fourth noob
What? (???% Fan Idea) Four Nukes Four Noobs.
vegetebles hulk (???% Fan Idea) Eat vegetebles hulk
Misery Misery Misery (???% Fan Idea) Fall 3 times by saving yourself.
Underestimated Sherrif (???% Fan Idea) Unlock the Felipe Rifle
american (???% Fan Idea) kill albert with the felipe rifle
can i have a joe (???% Fan Idea) get a joe
Parkourist (???% Fan Idea) Do obby 1
MADMAN (???% Fan Idea) kill all monster, then jump in the volcano, fall in the toilet and kill tato with felipe rifle. then, kill 5 players everyday for 1 week to get the badge. Rewards you the best items in the game.
goodbye... (???% Fan Idea) delete a gun
hello there america (???% Fan Idea) obtain or buy a gun
feliperich (???% Fan Idea) have 10,000 felipe tokens
sharing is caring (???% Fan Idea) give someone a gun
THE ULTIMATE MADMAN. (???% Fan Idea) Do all the steps in madman, then summon 5 noob nukes in a single day, do the pyramid obby 50 times, and kill 70 players(or monsters) in one day. Finally say "chillchill" in the chat.... And you have the powers of basic admin + unobtainable rank guns.
rap boy (???% Fan Idea) start a rap battle
ew what (???% Fan Idea) rap in the toilet