Jurassic World: Dominion Dominates Fandom Wikis - The Loop
Play Sound



Ahoy! This here is the 11th Article that was chosen in Hall of Fame.

"Sunscreen Eater" This Article has been chosen in hall of fame, meaning it was chosen as an article of interest.
Sunscreen Eaters is a term used by Albert to describe players (usually players who's avatars are default Xbox packages) whose heads are of the color of white, or sunscreen.
About
Sunscreen Eater is an ongoing meme in the Flamingo channel. Albert uses the term whenever he finds a player whose face is pure white, but the body is a different color, making it look like their face is full of sunscreen. Albert especially enjoys tormenting these specific players, claiming "This guy chose to be an adult so his mom can't tell him to not eat sunscreen". This caused people with unnaturally colored faces to be called whatever name that face is the color of, such as the Mustard Eater (Yellow Face), or Concrete Eater (Grey Face), Grape eater (Purple Face), etc.
Sunscreen eater types/relatives (common to very rare)
There are many different types of "Eaters," and it should be taken in consideration that they aren't limited to Xbox players. Any player can be classified as an Eater, as long as their body is a different color than their head, AND they must be an unexperienced player, (a noob), AND it must be done unintentionally to look bad. This is how to classify pure eaters and troll eaters. Below is an example of what is and isn't a sunscreen eater.
Common
These sunscreen eater kind are the most commonly found.
Sunscreen eater (White face)
Concrete eater (Light grey face)
Uncommon
These sunscreen eaters are less likely to be found, but not rare.
Flesh eaters (Light pink face)
Snowball eater (Very white face) (they also might be mistaken as a sunscreen eater.)
Mustard eater (Yellow face)
Rare
These are not commonly found, and can pose a challenge to find.
Sand eater (Beige face)
Pee drinker (Very yellow face)
Toothpaste eater (Blue face)
Poop eater (Dark brown face)
Dirt/Tree bark eater (Light brown face)
Tomato eater/Sunburn/ Blood eater (Red face)
Slime eater (Green face)
Very rare
These sunscreen eaters are barely seen.
Bubble-gum eater (Light pink face)
Relish/Deoxygenated blood eater (Dark red face)
Ink drinker (Black face)
Toxic waste eater (Dark green face)
Grape eater (Purple/magenta face)
Swamp eater (Moss/Light leaf face)
Salmon Eater (Medium Pink)
Sky Eater (Light Blue)
lime eater (lime green)
Extremely rare
These sunscreen eaters are one of a kind. They can even be the only one.
There are many more unknown types to be found.
Not Found (yet)
These sunscreen eaters have never been spotted. You can be the first
Toxic Toothpaste Eater (Turkise)
Night Sky Eater (Dark Blue)
child eater (#6f4b95)

Trivia
In ROBLOX VR RAGDOLL, Albert finds a player with a yellow face and calls him "Mustard Eater" referencing the Sunscreen Eater meme.
In Roblox breaking point... Albert finds a player with a grey face and calls him a "Concrete Eater" and remarks that "Concrete Eaters are the superior race."
Most of these types of players are new to the platform, and have not learned how to properly customize their character.
Most Sunscreen Eaters have the John Package.
In Work at a Pizza Place... Albert encounters a similar looking race he calls "Snowball Eater" and then throws snowballs at the it which knocks him down. Snowballs are presumably its food.
Most Sunscreen Eaters play Roblox on Xbox, because the bundles they wear were Xbox exclusives until recent events.
Xbox players seem to have their skin glitched, with their face being white, and the body being normal color. This can be fixed by changing your face color on the ROBLOX website.

This isn't actually a glitch, but in fact a simple mistake, as players still start off as Bacons on Xbox, only that you can purchase these packages, and change into them. The Skin tone was removed off of most faces sometime in 2019, causing the "Sunscreen eaters" to become a common thing, as there is no way to change your skin tone on Xbox.

In Roblox SIZE obby, Flamingo sizes up to the max limit & dies, turning into a Sunburn face.
In ROBLOX DEATHRUN, he explains how Sunscreen Eaters are different to normal players, with normal skin.
Xbox type sunscreen eaters are now extinct due to roblox removing the skin texture for the shirt
All Eater Images
Sunscreen Eaters in Flamingo's videos
Sunscreen Eaters found in the Wild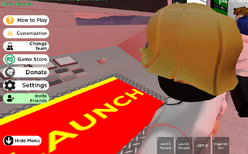 If you are putting an image of a sunscreen eater here, please add (found by "your username") just to know who found each sunscreen eater.