We're Getting Mutants in the MCU - The Loop
Play Sound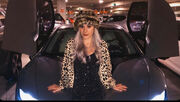 Kirsten (born July 8th, 1998) (known as FoxKirsten or FoxxKirsten online) is a Twitch streamer, YouTuber, and Albert's ex girlfriend.
Personality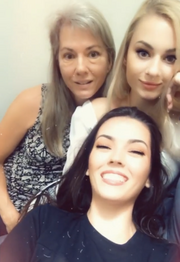 Kirsten acts pretty mature on her own channel as she states that she is a non-family friendly channel. Although acting mature on her main channel, she acts immature on the Flamingo channel and sometimes her main channel if it's a Roblox video. Similarly to Albert, she is pretty shy and awkward when first introduced to the camera as seen in Albert Flamingo GIRLFRIEND REVEAL. On social media she is bubbly and comedic. On TikTok, she claims she's not one to take risks.
Appearance
Kirsten is a 5' 4" (1.62m) Caucasian with a relatively athletic build. She has brown eyes and brown hair which she often dyes. It is currently blonde but she is growing out her natural hair seen in her dark roots. She usually wears relatively formal or aesthetic clothing with well put together outfits.
History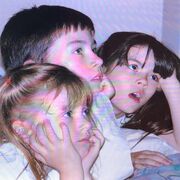 Kirsten grew up in the Sarasota area as the youngest in her family of her parents, sister, and brother. She and her sister, Shelby are fairly close with each other as she is only two years older. Shelby often visits Kirsten from Chicago, where she currently resides. Although Kirsten seems close with her family, she seldom talks about them as she would like to keep them private.
Kirsten had a somewhat troubled and hectic adolescence. At 16, she ran away from home and lived in a crack-house for a summer. That same year, she shared many crazy experiences with her friends that involved dangerous nights of running away from meth-heads. Kirsten shared some of these stories occasionally on her streams.
Kirsten and Albert both met at McDonald's when she was 14 and he was 15. Kirsten broke up with him a few months into their relationship, but they got back together a couple years later that ended with Albert breaking up with her. They reunited after Albert sent her a direct message on Instagram and got together once more on December 25th, 2018, but broke up again in February 2021. Although Albert decided to break up with Kirsten, both agreed that it was a mutual breakup. Kirsten and Albert seemingly remain friends, as they both follow each other on social media and Kirsten even posted about them getting breakfast together in May, months after their breakup.
Around June 2021, Kirsten started dating Gregory, whom she met on Tinder. She first posted with him on Instagram on January 6th, 2022, and he was featured on some of her TikToks and streams prior. Kirsten described their first date on one of her streams as "the best date" she's ever been on. They spent the entire day together and went back to Kirsten's house that night to drink hot chocolate and watch movies. The two had a very loving relationship and Kirsten even wished to get married and start a family with him in the future. Unfortunately, they broke up on June 3rd, 2022. The reasons behind the breakup are currently unknown, however, Kirsten described it as a "sudden tragedy". It is very likely that Greg initiated the breakup, and possibly cheated on her.
Her YouTube channel, FoxKirsten, had almost 608,000+ subscribers as of April 22nd, 2021. Following her social media hiatus in late 2021, her subscriber count has gone down to 587k as of January 2022.
Kirsten also has two other channels, one of them known as "FoxKirsten Roblox" with 23.9k+ subscribers as of January 2022. Her other account, "Kirsten Equestrian" features videos of her and her horse Cassini and it has 2.54k subscribers as of January 2022. It is likely that this account will remain dormant, as Cassini's lease ended in late 2021 and Kirsten returned her to her previous owner.
About Kirsten
Kirsten gained popularity as a Twitch Streamer. She mostly played Fortnite and gained very few followers. Although this changed in February of 2019 when she started dating Albert and his following followed her onto the platform, she currently has 54.2k followers as of January 2022.
She made her YouTube account on September 11, 2015, but made her first video when she was 20 on May 26, 2019. She has previously made other videos that are now archived, many of them being acoustic covers. Her first videos that are currently unarchived were Fortnite gameplays but she started playing Roblox on June 16, 2019.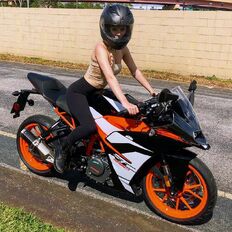 Hobbies
Outside of gaming and streaming, Kirsten shows a great interest in biking, she owns a RC390 motorcycle she dubbed Foxxie. She takes a great interest in horseback riding and taking care of her horse as seen on twitter. She enjoys playing the guitar and singing shown by a cover she did on TikTok. She also enjoys working out at the gym and caring for her various pets, including gerbils and her dogs.
Trivia
She has a Roblox account called PapiSmallLegs.
She owns two Instagram accounts for Bedrock and Peach (both seen on their pages).
She is bisexual.[1]
Months before their breakup was publicly announced, the "Albert / Flamingo GIRLFRIEND REVEAL" video was privated. However a working archive has been found: https://web.archive.org/web/20201001124615/https://www.youtube.com/watch?v=3ugogmn8rNE
Her Starbucks orders consist of a caramel macchiato, dirty chai, or a customized latte.
Her favorite candy is Starburst Minis.
Her favorite M&M flavor is red.
She enjoys lemons and grape-flavored things.
Her favorite book is Pride and Prejudice.
She hinted at her and Albert's breakup in a tweet back in March.[2]
She worked at Lana's medical spa, Beaumonde Aesthetics.
She has a fear of frogs and airports.
Some point in late 2021, she replaced her Porsche Cayman with a Kia due to financial reasons.
Sources